Trade show tips and tricks from a pro
Spring is coming — and so are industry trade shows!
I've been to my fair share of trade shows as I spread the word about Spirit Sox USA. Along the way, I've learned some tips to keep me sane (and not in pain).
Wear comfy shoes — No one looks at your shoes. You will stand all day and walk miles, so be comfortable!
Make sure your booth is open and inviting — Don't put the table straight across your enclosed booth and sit behind it. That puts a barrier between you and potential customers — the last thing you want!
Put out yummy candy — And I mean the good stuff — like Snickers, Hershey's and Root Beer Barrels! Even if you don't have a sales conversation, you'll give someone a much-needed sugar rush during a long day at the show and they'll appreciate you for it!
My favorite giveaway item, besides socks, of course, is popcorn. It's the perfect little snack for a conference and you can usually follow the smell!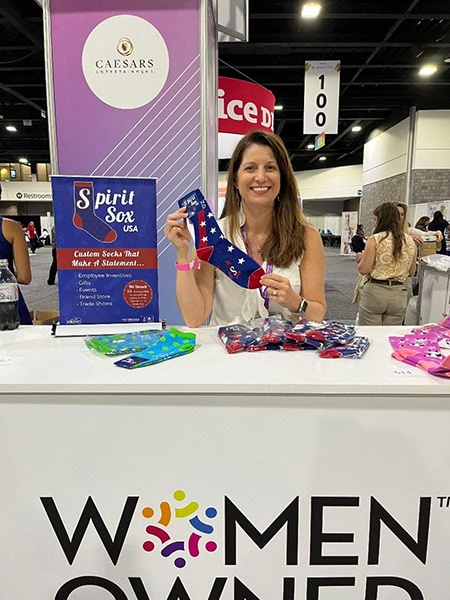 Find me at CADA March 1-4 in San Diego and WBENC National Convention March 20-24 in Nashville. If you're headed to either, I'd love to see you there!
If you need socks for your upcoming trade show or event, shoot me an email to get started!
Need a unique last-minute Valentine's gift?
Flowers wilt and chocolates melt, but you know what will keep someone toasty warm this Valentine's Day? Socks, of course!
If you're stuck for a gift idea for someone you love, take a look at our sock subscription.
Every month, your recipient will get two pairs of super-cozy, super-fun socks. They're sure to love you for it!
Get started: Warm their heart (and feet) with a monthly sock-scription!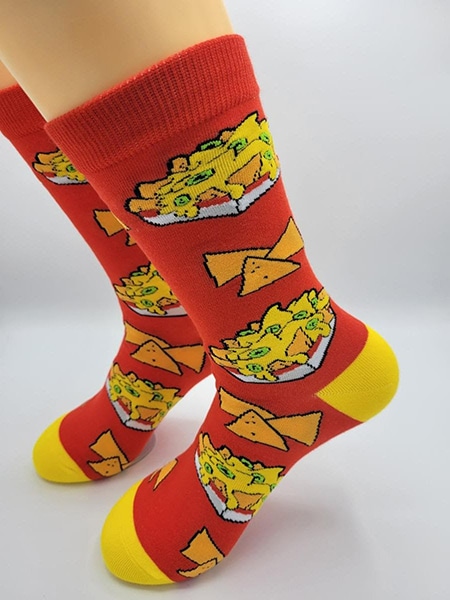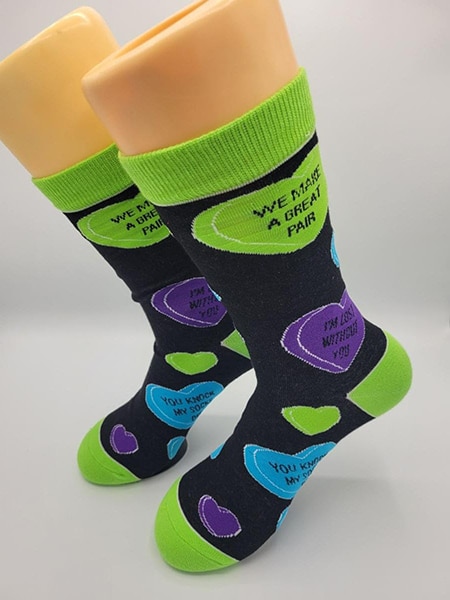 Check out February's socks! Your recipient will get both pairs. There's still time to order!
Sock of the Month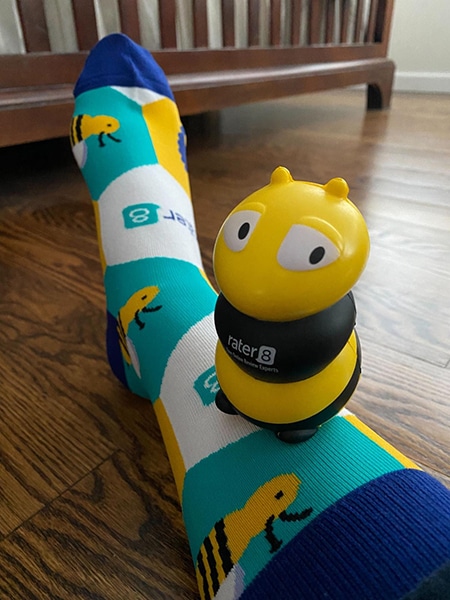 Madeleine Choir School 5K Superhero Fun Run
Our Sock of the Month customer, rater8, is the leader in healthcare reputation management, giving medical practices the tools they need to build online reviews and boost their overall image.
Their industry-leading technology is called pollin8™, so it's a no-brainer that they've adopted the bumblebee as their mascot.
With a design at the ready, rater8 initially approached a different vendor with their sock needs, but that vendor was ultimately unable to deliver.
With conference dates looming and swag lacking, rater8 turned to us at Spirit Sox USA. The collaboration was a success from the start. Not only did we create the socks exactly as the rater8 team had envisioned, but we even managed to deliver them ahead of schedule despite the tight deadline.
The rater8 team tells us they are so excited to share these bee-utiful socks with conference attendees!
Want your own custom socks for customers, employees or events? Let's get them started!
Upcoming sock-worthy events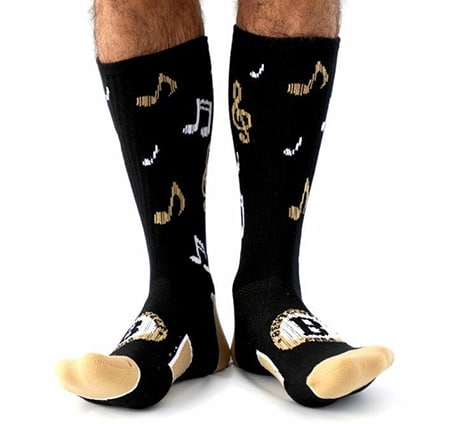 Celebrate with Socks
April 2: World Autism Awareness Day
April 3: National Find A Rainbow Day
April 8: National Zoo Lovers Day
April 16: National Wear Your Pajamas To Work Day
April 20: Get To Know Your Customers Day
April 23: National Picnic Day
April 30: National Hairstylist Appreciation Day
Let's be pen pals!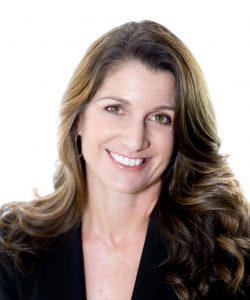 I want to hear from you! Do you have questions? Comments? Did you see some cool socks this week? Did you like something I posted on social?
Don't I know you from somewhere?
Are you following us on Pinterest, Instagram, Facebook or YouTube? I hope so! Or I'd love to have you connect with me personally on LinkedIn. When you need socks for your business, school, team, event, or fundraiser, I'm here to help! I work with each and every customer personally to make sure you love your socks!
Until next time,
Lisa