Highlight your brand or message on quality dress socks!
• High-end dress socks: Soft, flexible custom-knit combed cotton
• Classic dress socks: Custom-knit cotton nylon blend
• Highly Customizable
Product Name

100

250

500

1000

2500+

High-End Dress Socks

$9.04

$8.54

$8.04

$7.04

Contact for quote

Classic Dress Socks

$8.74

$8.24

$7.74

$6.74

Contact for Quote

These prices are per design and include high-quality custom knit socks, all set-up fees, multiple colors, multiple designs, individually packaged socks, and top-notch customer service. In other words, there will be no surprise fees at the end of our process, just a little bit for shipping and sales tax, if applicable. All items are available in youth and adult sizes at the same price.
Dress Up from Heel to Toe
For branded socks of a higher caliber, consider custom dress socks fit for business events, parties, and formal occasions. With custom knitting and soft, high quality fabric, our dress socks are a gorgeous platform to highlight your company logo or message. Depending on your design needs, we'll set you up for black tie, white tie, and every color in between. Design your own personalized dress socks that provide a comfortable fit for men and women, and the chance to be creative. Just send us your monogram, colors, logo, or anything else you can imagine. Our designer is always prepared to bring your vision to life– in just one business day, we'll send you free, zero obligation mock-ups that you can customize and tweak to design your custom dress socks to your exact specifications. Once you've settled on a design, your dress socks will be custom-knit specifically for you. Our dress socks are available in two fabric options– a soft, stretchy cotton nylon blend, and high-end 100% custom combed cotton. Regardless of your choice, our custom knit process will create high-quality socks that are comfortable and durable – and unlike any others in the world. 
Quality Materials, Quality Production
Spirit Sox USA guarantees you'll be the most stylish person around in our custom dress socks, available in bright and vivid color. Curious about sizes? These dress socks come in youth and adult sizes, making the perfect fit available to any and all. Still on the edge? Just reach out, and we'll send you a free sample! With a reinforced toe and heel, plus no hidden fees, our custom dress socks have the durability, quality, comfort you're looking for. Our woman-owned sock design company and manufacturer work together to ensure the highest quality of socks for your business, fundraiser, event or other call for custom dress socks. Together, we support each other and collaborate to make sure Spirit Sox USA customers are 100% happy and satisfied with their product.
Give your personalized dress socks to your associates, fundraise for your favorite charities, stuff a swag bag, start a conversation, spread your message, or send them anywhere that might need high quality, breathable, and long-lasting dress socks with your unique branding. With maximum comfort and style in every step, who knew footwear could be this fun?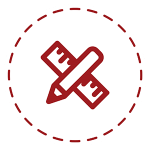 An expert designer creates custom dress sock mockups you can tweak to your heart's content.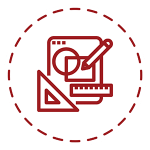 We find the best way to showcase your logo and exact brand colors when you design your personalized dress socks.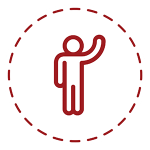 Real people, fast service
Work directly with actual humans to create amazing socks.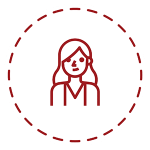 The Sock Queen has been doing this for years.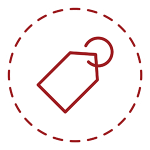 No setup fees or other sneaky costs.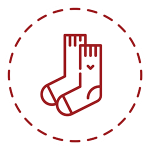 5% of profits go towards providing socks to the homeless.
What People Love About Our Custom Dress Socks
"Spirit Sox USA is great! Why? Well, it's the people of course. Chelsea and Lisa worked diligently to come up with a design, send samples and deliver a sock that is comfortable and fun. If you want to add a little kick to your step, I would reach out to them and see how they can help you. Fish and Explore socks are cool. Everyone in the company loves them. Thanks to the Queen and her court!"
"Spirit Sox USA was amazing to work with! They made the process so easy and were able to get it to us way before the final date!! We love our PERKY socks!!"
How will you use your socks?