A sock-sational wedding favor idea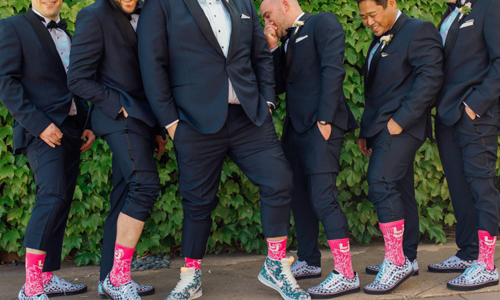 When I started making custom socks, I was first thinking of fundraisers and businesses — not necessarily weddings! But as I started making socks for more and more types of events, organizations, and businesses, I began to see all the ways socks can help you celebrate just about anything. I had done a few socks as wedding favors before, but these were really special because they were for a good friend I made a few years ago in a networking group.
Lauren and her fiancee had made an adorable logo for their festivities that was on their invitations, wedding website, and more. Their wedding was in Sonoma, so they had chosen bright berry colors for everything. With the colors and logo in hand, it was a breeze to come up with these berry-themed socks for all their guests. To my surprise, the groom and groomsmen actually wore the socks with their tuxes on the big day!
Congratulations, Lauren!
If you're thinking of socks as a favor for a wedding or another event, give me a shout and we can brainstorm!
A Sock-Sess Story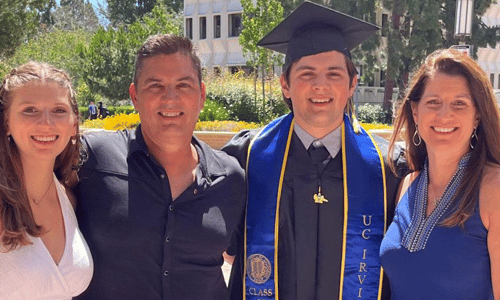 My Son, Mitchell
This month's Sock-Sess story is a little different but hard-earned and well deserved.
My son, Mitchell, graduated from UC Irvine on Sunday with a BS in Chemistry, with an Environmental Emphasis and a Business Minor.
And we could not be prouder. Not only because he graduated from college, but because of the challenging circumstances he had to overcome while in college. He persisted, overcame, and succeeded, now with a college degree in hand, ready to take on the world.
Mitchell has always been my big brown-eyed baby boy. He is kind, intelligent, empathetic, inquisitive, and a lover of sports and animals. It's been so easy to do everything we could to support his dreams.
I am one proud Mama Bear!
Sock of the Month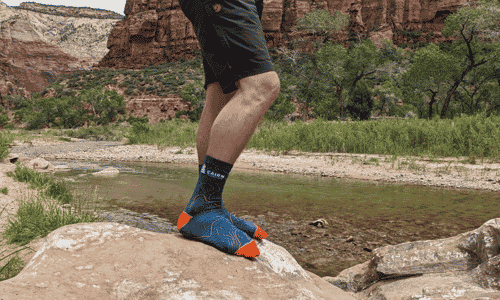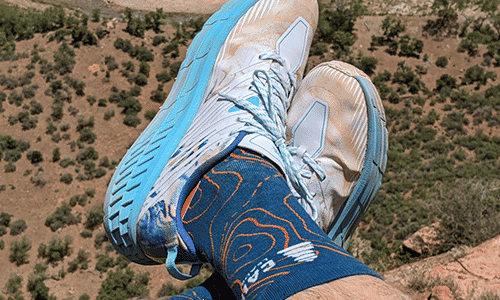 Cairn Leadership
Our Sock of the Month is one we did for Cairn Leadership, an amazing organization that guides growth-minded leaders on outdoor adventures. These adventures are designed to foster both personal and professional development in a hands-on way. (No boring lectures and contrived activities with Cairn!)
Knight and I were introduced on Linkedin and he immediately loved the idea of giving branded quality socks to the leaders that participate in his program.
These topographic socks are actually his 2nd order because the first socks were so popular that they only lasted a few months!
One of my favorites is when customers send us amazing photos of their socks "in action" and credit to Knight for these phenomenal pics!
Upcoming Sock-Worthy Events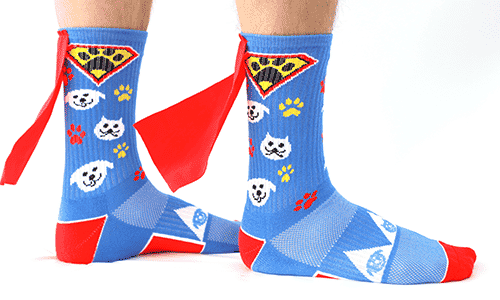 Celebrate with Socks
August 4: National Chocolate Chip Cookie Day
August 6: National Play Outside Day
August 8: National Dollar Day
August 9: National Book Lovers Day
August 13: National Bowling Day
August 17: National Non-Profit Day
August 19: National Aviation Day
August 26: National Dog Day
Let's Be Pen Pals!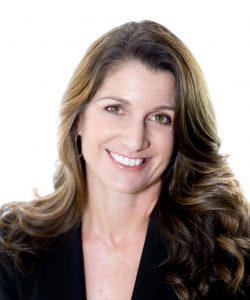 I want to hear from you! Do you have questions? Comments? Did you see some cool socks this week? Did you like something I posted on social?
Don't I know you from somewhere?
Are you following us on Pinterest, Instagram, Facebook or YouTube? I hope so! Or I'd love to have you connect with me personally on LinkedIn.  When you need socks for your business, school, team, event, or fundraiser, I'm here to help! I work with each and every customer personally to make sure you love your socks!
Until next time,
Lisa