We received our 100th 5-Star Review in May and ALL of our reviews to date have been 5 star reviews. It's time to celebrate!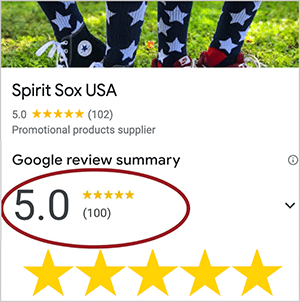 Thank you to our brilliant customers for spreading the word about your experience with us.
We hope to continue bringing joy and fun to people and organizations and making brands more memorable!
Sock-sess story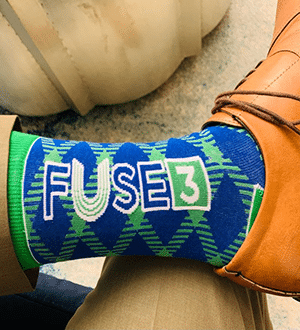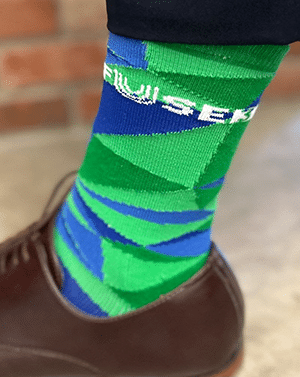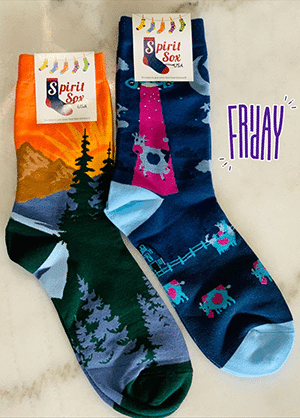 Fuse3 Solutions
Kelsey, from Fuse3 Solutions, is one of our favorite customers!
Not only does he love socks, but he brings so much energy and enthusiasm to our process, and allows us so much creativity – working with him is an absolute joy.
In January, Kelsey came to us wanting to order some fun socks for Fuse3 Solutions. He and his team chose 3 different designs in a mix of athletic and dress socks that they would take to events, give out to employees, and use as gifts.
Their socks were so popular that they ran out in just a few months, and we've already got a reorder for 4 new sock designs in 4 new styles!
Kelsey really embraced the fun of Spirit Socks USA by doing a "Reveal" on Wednesdays, sharing each design individually in a weekly post to his network. He generated so much excitement and interest through them that it's definitely one of the reasons they ran out so quickly. A real sock-sess!
The joy that came from working with Kelsey and his company is exactly why we love what we do!
He was so crazy about the quality and fun of Spirit Sox USA that he joined our Spirit Sox Club.
HOORAY!!!!
Want your own custom socks? Let's get them started!
Upcoming sock-worthy events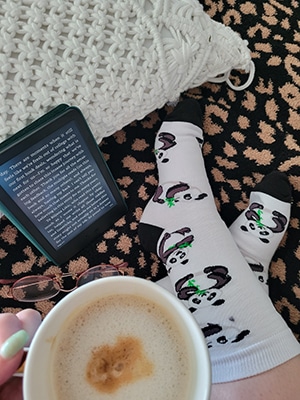 Celebrate with Socks
July 1: American Zoo Day
July 4: Independence Day, USA!
July 8: National Blueberry Day
July 14: Shark Awareness Day
July 16: National Ice Cream Day
July 20: Chess Day
July 24: Amelia Earhart Day
July 31: Avocado Day
Spirit Sox Club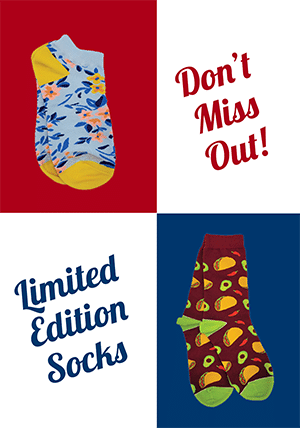 Who doesn't love fun socks?
Spirit Sox Club Monthly Subscription makes it easy and fun to get 2 pairs of stylish, one-of-a-kind socks delivered to your door every month.
And they make A GREAT GIFT!
Here's how it works:
Select your desired size.
Select your subscription frequency.
Prepay and save!
Our team will take it from there!
You get two pairs of limited edition sock designs that will make your feet the envy of everyone you meet!
Sock News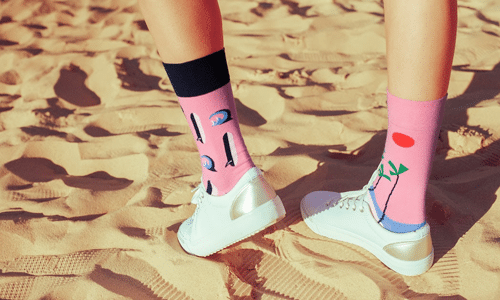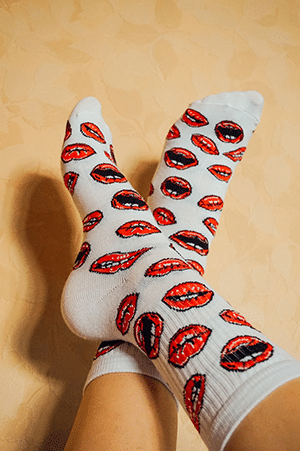 Socks in the summer?
It's almost Summer and you might be wondering if Socks go with Sandals? We think so, and we are not the only ones!
Check out this article for another perspective.
Socks are a Booming Industry!
Custom socks are everywhere! We love creating socks that are high quality like name brands but totally customized to your organization or your cause. Our design team can fully customize a pair for free and in just ONE BUSINESS DAY!
Fun Fact
Did you know that the word "sock" comes from the Old English word "socc". This word means that the sock was worn to protect one's foot.  Then it's no wonder that socks are the #1 requested item for homeless shelters.
Let's exchange ideas!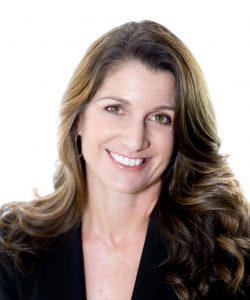 I want to hear from you! Do you have questions? Comments? Did you see some cool socks this week? Did you like something I posted on social?  
Are you a social butterfly?
Follow us on Pinterest, Instagram, Facebook or YouTube — pretty please! Or connect with me personally on LinkedIn. 
When you need to to make a splash for your business, school, team, event, or fundraiser with socks of ANY style, I'm here to help! 
I work with every customer personally to make sure you will make the absolute best impression and that you love your socks!
Until next time,
Lisa