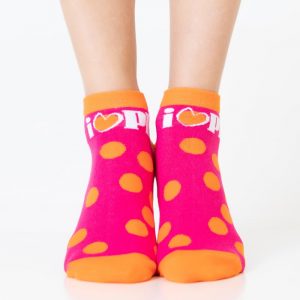 Why do people wear shirts and hats (and anything else you can think of) emblazoned with their favorite sports team? Easy — to feel like they belong and to show everyone a little piece of who they are.
It's not just for big-name sports teams. That concept is true for your business, your event, or your fundraiser — when they're excited about where they work, what they participate in or what they support, they want to show it. 
I see examples of this every day in my work with all kinds of people who want
custom socks and custom masks
to support something they care about. It's a way to show belonging and unity — and fun, of course! 
What sorts of giveaways or promotional items have you used to connect with your group, team, charity, or business?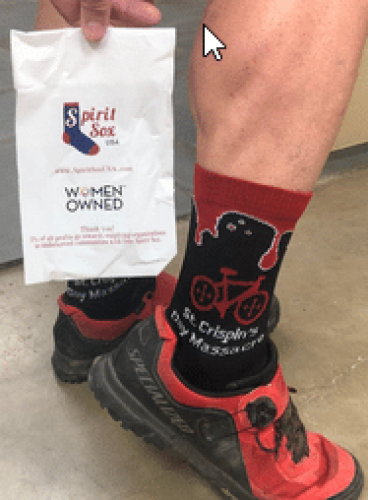 St. Crispin's Cycling Socks
We made our first cycling socks for St. Crispin's Day Massacre! It was so fun to work with Mike, the organizer, to create the design that fits the name and feel of the race.
While they have medallions for the top finishers, each rider gets their very own pair of custom cycling socks!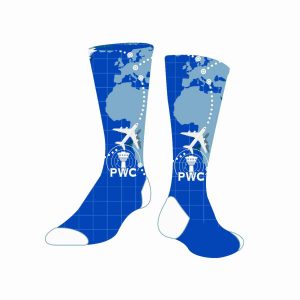 Professional Women Controllers
To say I love Professional Women Controllers (PWC) and what they do is an understatement! PWC is an organization that helps attract women to the air traffic controller profession and create a balanced workforce that better reflects actual demographics. They're also a resource for training, development and encouragement for women air traffic controllers.
But the amazing work they do is not the only reason they win Sock of the Month! Just take a look at their sock design! It's one of my favorites we've ever done. They'll give these socks as gifts to every member at their upcoming annual convention.
I could not be more excited to support this wonderful organization, and I hope they absolutely love their socks! The best part of all of this is that they were referred to me by a fellow woman-owned business — I love, love, love women supporting women!
Upcoming Sock-Worthy Events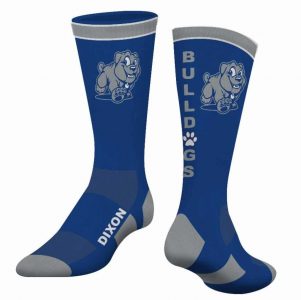 Celebrate with socks!
May 1: National Homebrew Day
May 4: National Teacher Appreciation Day (We created these cute socks on the left for a school last year!)
May 5: National Skilled Trades Day
May 6: National Nurses Day
May 9: Mother's Day
May 15: National Armed Forces Day
May 21: National Bike to Work Day
May 30: World Multiple Sclerosis Day
May 31: Memorial Day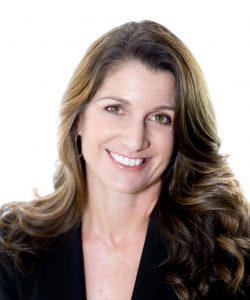 I want to hear from you! Do you have questions? Comments? Did you see some cool socks this week? Did you like something I posted on social?
Don't I know you from somewhere? 
When you need socks for your business, school, team, event, or fundraiser, I'm here to help! I work with each and every customer personally to make sure you love your socks!
Until next time,
Lisa