Build Your Sock Collection with Lego Socks!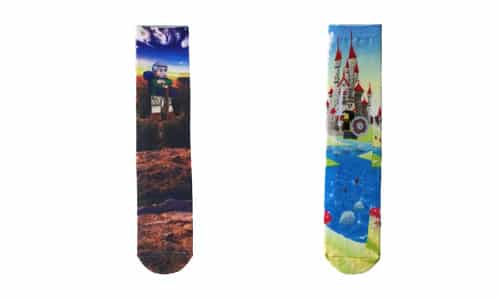 Who likes Legos? Just about everyone, of course! That's why I was so excited to make socks for Tim Croll, who was featured along with his son, Zach, as the father/son duo on season two of Lego Masters, which aired from June through September on FOX.
They (and all the contestants) built some Lego creations that blew my mind! But Tim and Zach showed America much more than what they could build with Legos. They showed us the strong bond between parent and child — even when that child is 18!
They showed us how having a common interest can build that bond and give us all a reason to spend quality time together. It was so inspiring!
And now — lucky me! — I got to make socks with their Lego figurines on them! That's right — you can get your very own Lego Tim, Lego Zach, or just Lego socks from Tim.
Tim and Zach are busy attending Lego Conferences and Brick Fests all over the country, selling their socks along the way. The socks will be coming soon to Tim's store — stay tuned for the link next month!
Spirit Sox USA is so excited and honored to support Tim and Zach with their Lego socks!
An Update About Spirit Sox USA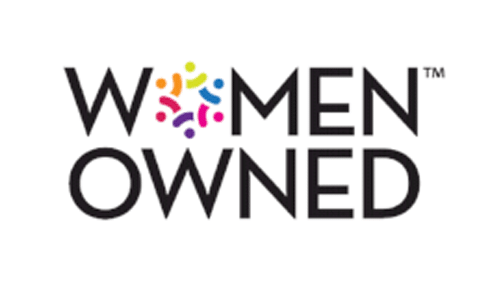 I have some exciting news to share with you all about my business!
Spirit Sox USA has been certified as a Women Owned Small Business and re-certified as a Women Owned Business!
Both these certifications are no walk in the park to get, so I'm super proud. There's a rigorous process involved to meet all the strict qualifications.
If your organization prioritizes working with women-owned suppliers, I'm here for you to cover all your custom sock or mask needs!
A Sock-Sess Story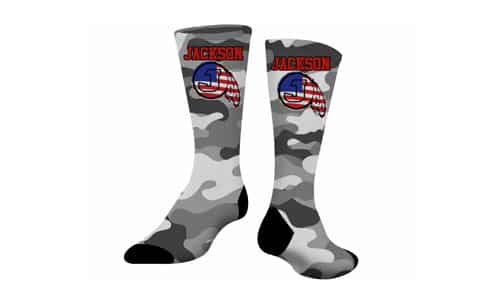 Jackson High School
For the last two years, Jackson High School has had a highly profitable and successful stocking stuffer fundraiser, selling custom socks with their school logo.
They offered five different sock designs and offered a tempting deal: the more you bought, the less you paid per pair!
Their key to success was keeping the focus on the fact that it was a fundraiser for their state-ranked wrestling team to attend tournaments.
Socks make a perfect holiday gift, no matter what holiday you celebrate and a profitable fundraiser to end the year!
Alert! Possible Holiday Shipping Problems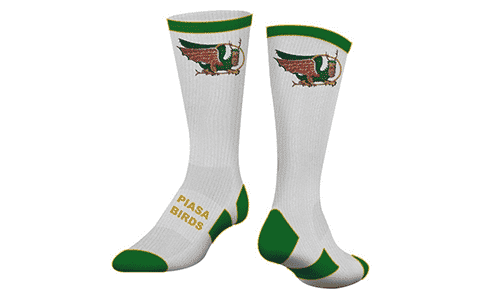 I wanted to make sure you know that shipping and supply chain issues are predicted to make a mess of holiday shopping this year.
That means that if your school, organization, or group wants to make fundraiser socks to sell as stocking stuffers this year, now is the time!
I'm happy to help! Just email me ASAP!
Sock of the Month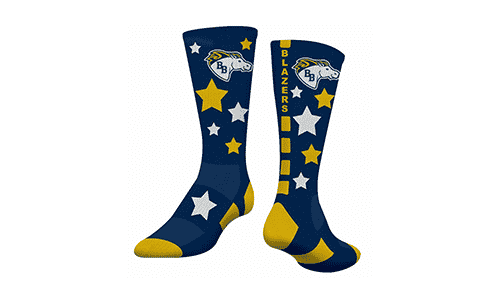 Bentley Elementary
The Bentley Blazers added socks — and profit — to their Turkey Trot by offering these fun socks as a donation incentive in addition to their annual t-shirts.
By adding the socks to the fundraiser, they raised thousands of dollars more than the year before. Way to go, Blazers!
Upcoming Sock-Worthy Events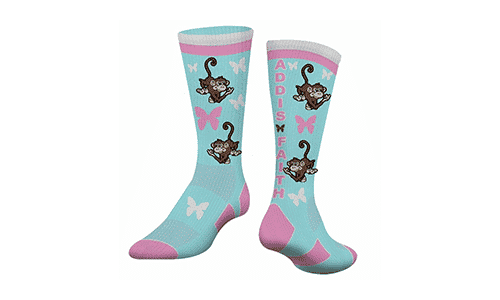 Celebrate with Socks
December 4: National Sock Day
December 8: National Brownie Day
December 10: National Salesperson Day
December 11: National App Day
December 13: National Violin Day
December 14: Monkey Day
December 18: National Twin Day
December 26: National Thank-You Note Day
December 30: Bacon Day
Let's Be Pen Pals!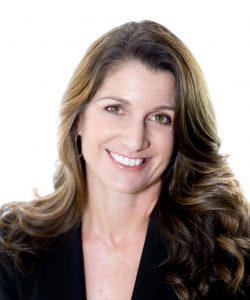 I want to hear from you! Do you have questions? Comments? Did you see some cool socks this week? Did you like something I posted on social?
Don't I know you from somewhere?
Are you following us on Pinterest, Instagram, Facebook or YouTube? I hope so! Or I'd love to have you connect with me personally on LinkedIn.  When you need socks for your business, school, team, event, or fundraiser, I'm here to help! I work with each and every customer personally to make sure you love your socks!
Until next time,
Lisa