Gratitude for the Best Year Yet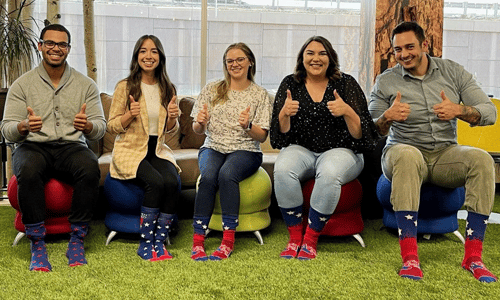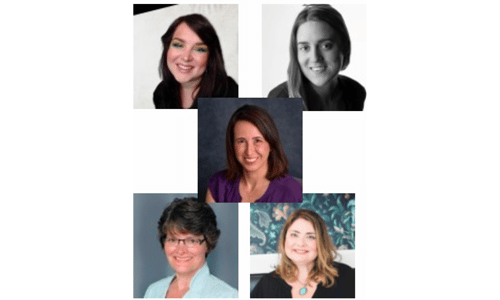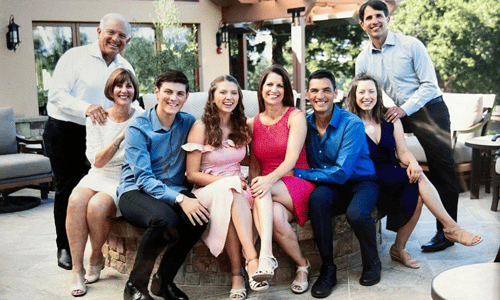 When I started Spirit Sox USA in 2016, I didn't know what would happen. I was determined, but I also knew I had a lot to learn.
I still don't (and won't) know it all, but my determination has taken Spirit Sox USA places I didn't imagine back then! This has been the biggest year ever for my company — we're 38% over last year's revenue and we're not done yet.
That fills me with excitement for what's to come next year, but it also fills me with just as much gratitude for the people and experiences that have gotten me here:
My customers, of course! I've met so many wonderful people because of socks.
My team:
So much talent from other women-owned businesses like mine!
Fantastic, in-person events, including TMEA, CADA, and WBENC Nationals.
My network of supportive business owners (PSP pack, you know who you are!) in person and on LinkedIn.
And last, but never least, my wonderful family: Greg, Mitchell, Kayla, Mom, Dad, Joe, and Amanda.
Super-Secret Sock Scoop!
Another reason for my excitement is that I know what's in store — and soon so will you! National Sock Day is coming up on Dec. 4, but that's a Sunday, darn it, and not the best day to do what I have planned.
So coming up the next day, Monday, Dec. 5, I'm going to be on LinkedIn and Facebook sharing a live product announcement! It's unlike anything I've done before, so make sure you're following me on LinkedIn and have liked my Facebook page to hear all about it!
I'm not telling just yet, but here's a tiny hint: It just might help you with your holiday shopping!
Stay tuned!
Sock of the Month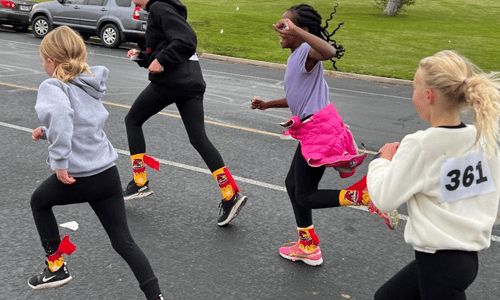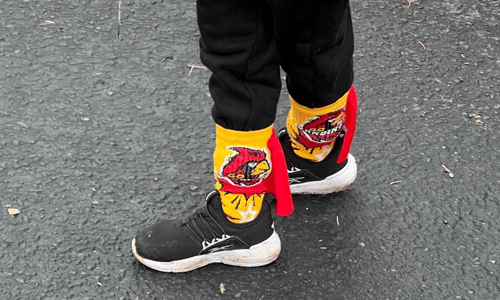 Madeleine Choir School 5K Superhero Fun Run
I love getting creative with our custom socks, and this month's featured sock took that to a whole new level!
Madeleine Choir School hosts an annual Superhero 5K & Fun Run Fundraiser every November and they usually give out capes to participants to fit their superhero theme.
But they were in the mood to switch things up and wanted to try socks. After I heard about their usual giveaway, I suggested adding capes to the socks. Hey, no harm in trying something new, right?
Once they saw the pre-production mockup, they ended up ordering almost double what they originally requested because they knew everyone would want socks with capes!
This is another key reason I give all my customers a pre-production mockup to approve. Besides wanting to make sure everyone is beyond happy with their sock design, I also want to give my customers a chance to adjust their orders if needed. That way you can get the right number from the start.
Have an upcoming sock-worthy event? Shoot me an email and we can cook up a great idea together!
A Sock-Sess Story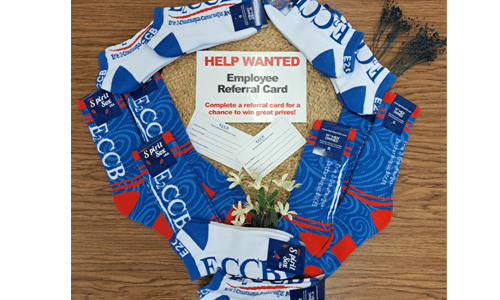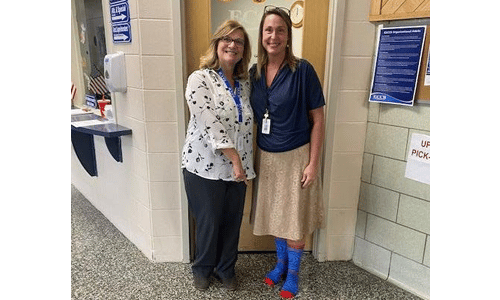 Erie 2-Chautauqua Cattaraugus BOCES (E2CCB)
E2CCB is a college in New York that contacted us looking for socks as an incentive. They wanted to help spread the word about working there, so they used them to encourage employees to refer friends and family to apply for jobs at E2CCB.
We came up with some fun designs using their colors, and they chose to order both a crew sock and an ankle sock so recipients could pick their favorite style. They loved the socks and were excited to share them with their team!
If you're looking for a unique employee incentive, custom socks are a fun option! Give me a shout and we'll get started.
Upcoming Sock-Worthy Events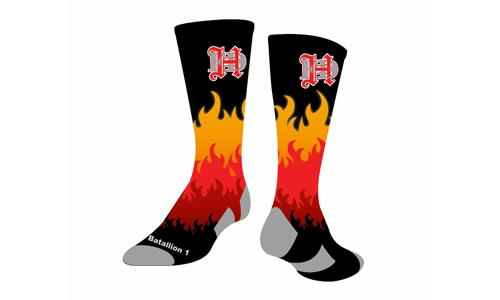 Celebrate with Socks
January 2: National Science Fiction Day
January 5: National Bird Day
January 6: National Technology Day
January 7: National Career Coach Day
January 19: National Popcorn Day
January 24: National Compliment Day
January 28: National Have Fun At Work Day
Let's Be Pen Pals!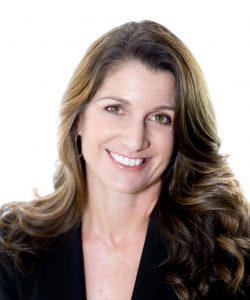 I want to hear from you! Do you have questions? Comments? Did you see some cool socks this week? Did you like something I posted on social?
Don't I know you from somewhere?
Are you following us on Pinterest, Instagram, Facebook or YouTube? I hope so! Or I'd love to have you connect with me personally on LinkedIn. When you need socks for your business, school, team, event, or fundraiser, I'm here to help! I work with each and every customer personally to make sure you love your socks!
Until next time,
Lisa