How to Create and Grow School Spirit in 2020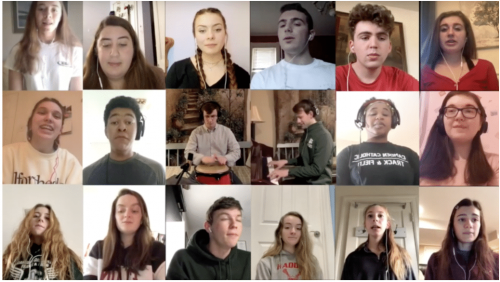 Keeping spirits high is more important than ever with educators, students, and parents alike. With imagination, creativity, innovation, and positivity, school spirit can continue to grow and build with distance learning and all the challenges that 2020 has thrown at us! Studies have shown that school spirit and pride can result in better grades and attendance – which all contribute to a positive and healthy school culture, no matter where we are learning.
With so many of us learning and teaching primarily through screens right now, this can seem like a huge challenge. Finding new and exciting ways to enhance school spirit is essential to making distance learning successful and enjoyable for all. Social media has been a huge driving force for connection with schools nowadays, so read on for some ideas to help students feel pride in their education and community.
Yes – spirit weeks can continue wherever you are! Many schools have already adopted this fun, spirit-raising idea of creating spirit weeks for distance learning. Each week, students can have specific challenges they have to do, and tie everything into social media. For example, at one school, students had to send in photos of their favorite Netflix show and what they wear when binge-watching. School-appropriate Tik-Toks are so much fun for students to partake in as well. The possibilities are endless.
Take a look at these amazing virtual spirit weeks: https://www.newsobserver.com/news/coronavirus/article241617546.html
Boca Raton Community College has adopted their new favorite hashtag – #CoronaCant. It's all about creating inspiring content that shows how the Coronavirus can't keep their spirits down and can't keep them from what's most important. Some popular sayings from the campaign are: "Corona can't keep me from being happy!" "Corona can't keep me from staying in shape!" "Corona can't keep me from becoming the best person I can be!"
Watch this great video on #CoronaCant!
Virtual Fundraising and Swag with Spirit Sox USA
It's so simple to raise spirits and funds for your school, organization, or community with Spirit Sox. We create custom, exciting, and personalized socks and masks that represent your spirit! Socks and masks are a wonderful way for students and all faculty to show their love for their school. You can rock your school colors, logo, and more on each pair.
"We bought 100 masks for the 80 Teachers and Staff Members at our school.
They loved them and many have said they are their favorite masks of all the ones they own! Several have also asked for another one and if we will offer them for parents and for students, and if we can do a fundraiser! We love our masks!"
~Yokayo Elementary School
Customer Spotlight — North Kiwanis Club